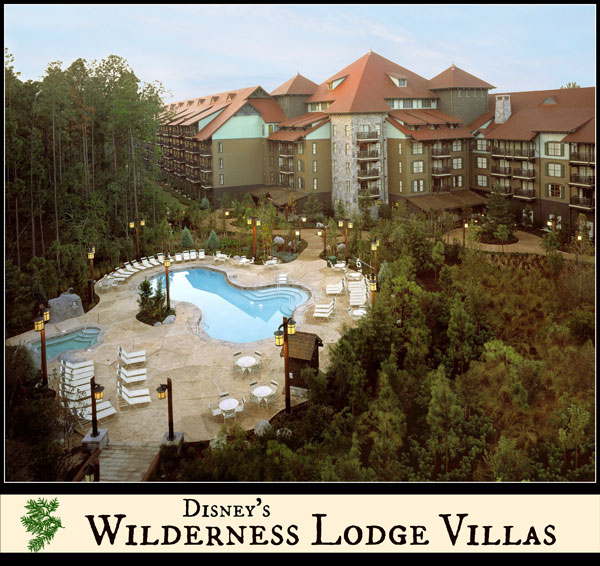 Retreat to the Great Northwest
These charming studio, one-, and two-bedroom vacation villas are inspired by the tall timber and majesty of National Park geyser country. You can relax in peaceful surroundings while enjoying the pool and health club facilities plus the recreational amenities. Shopping and dining experiences are located right next door at Disney's Wilderness Lodge.
Rooms at Boulder Ridge Villas at Disney's Wilderness Lodge
– 181 Villas
– Disabled accessible villas available
– All villas non-smoking
– Buildings offer elevators and interior corridors
– Guest Room amenities include Alarm Clock, Bath and Facial Soap, Fire Extinguisher, Graco Pack 'N Play Portable Crib, Hair Dryer, Ice Bucket, In-Room Safe, Iron and Ironing Board, Shower Gel, Shampoo, Conditioner, Telephone*, Television in each Bedroom and Living Room, Vacuum Cleaner, Whirlpool tub (except Studios), Wireless Internet
– Bed Boards/Rails, Extra Portable Cribs, and High Chairs are available for resort guests upon request.
* Local, 1-800, collect, credit card and third party calls placed from an in-room Disney Resort Guest telephone do not incur a surcharge. Charges will apply for directory assistance and domestic/international long-distance calls.
Studio
Rooms sleeps up to 4 guests plus one child under 3 in a crib.
Sleep Configuration:
1 Queen, 1 Double Sleeper
1 Bedroom/1 Bath Villa
Rooms sleeps up to 4 guests plus one child under 3 in a crib.
Sleep Configuration:
1 King, 1 Queen Sleeper
2 Bedroom/2 Bath Villa
Rooms sleeps up to 8 guests plus one child under 3 in a crib.
Sleep Configuration:
1 King, 2 Queen, 1 Queen Sleeper OR 1 King, 2 Queen, 1 Double Sleeper
Boulder Ridge Villas at Disney's Wilderness Lodge Dining
– 1 Quick Service location
– 2 Full Service restuarants
Artist Point
Whispering Canyon Cafe
– Pool bar
– Lounge
– In-Room Dining: 7am – 11am
– 5pm – midnight
Recreation
– Pools
– Hidden Springs Pool (Quiet Pool)
Silver Creek Springs (feature pool) with a water slide and nearby rock geyser is located nearby/next door at Disney's Wilderness Lodge
– 2 whirlpool spas
– 1 child pool
– Children's playground
– Arcade
– Marina/boat rental
– Fishing
– Beach area
– Bike rental
– Jogging trail
– Health club
– Massage/spa services
– Electrical Water Pageant view
(Recreation areas are shared with Disney's Wilderness Lodge)
Transportation
Transportation
Motorcoach transportation
– Disney Theme Parks
– Disney Water Parks
– Disney Springs
– Disney Resort Hotels*
*Requires one transfer at a Disney Theme Park
Water launch to:
– Disney's Fort Wilderness Resort
– Disney's Contemporary Resort
– Magic Kingdom® Park
Walking Distance:
– Disney's Wilderness Lodge
– Disney's Fort Wilderness Resort
Other Services
– Disney Resort Benefits
– Merchandise location (gifts, sundries)
Grocery items available
– Self service laundry facilities
– Valet laundry service
– Valet parking
Address
901 Timberline Drive
Lake Buena Vista, Florida 32830
Check In/Check Out
4:00 PM / 11:00 AM
Kids Programs
Cub's Den
Hours: 4:30 pm to 12 midnight
Information: (407) 939-3463* or contact Front Desk.
This children's entertainment clubhouse offers supervised activities. Entertainment includes Disney movies and video games. Meal available for an additional charge. Children must be ages four to 12. Open to all Hotel Guests. Reservations accepted.
Babysitting
Kid's Nite Out, one-on-one in-room childcare. Call (407) 828-0920 or (800) 696-8105.
Spa Services
Get back to a healthy nature at the Sturdy Branches Health Club. This new health center has a full complement of cardio and strength fitness equipment including machines and free weights so you can stay in shape. After your work-out, enjoy a variety of massage treatments or a soothing sauna. We are happy to assist you with your health and fitness needs. Call for reservations at (407) 938-4222, 8:00 am to 8:00 pm Daily.
Swedish Relaxation Massage
25, 50 or 75 min.
Enjoy a relaxation massage of traditional long strokes and kneading techniques. This therapy increases circulation, soothes tired muscles and relaxes the body.
Deep Tissue Massage
25, 50 or 75 min.
Our therapists utilize their experience in different techniques to relax you and relieve the symptoms of built up tension in the muscle tissue. This massage uses a Deep Heat oil that penetrates into the body allowing the muscle to relax to a greater level. This is a moderate to firm massage.
Aromatherapy Massage
25, 50 or 75 min.
This massage facilitates ultimate relaxation as the body receives therapeutic benefits from the use of our pure essential oils.
Lavender oil – excellent for deep relaxation and also serves as a soother for sunburned skin.
Birch Amica – great for sore muscle tissues and helps circulation throughout the body. Additional charges for in room service.
Health and Fitness
Personal Training available by appointment.
State of the art strength and cardiovascular equipment including treadmills and bicycles (regular and recumbent). Guest memberships on a Daily, Individual Length of Stay basis, or Family Length of Stay basis includes the use of sauna and steam rooms. Health Club usage is included with any spa service.
Not in the habit of working out? Disney's fitness attendants are always more than happy to lend a helping hand offering structured Personal Training Sessions as an added amenity. To set up an appointment please call at least 24 hours in advance. Proper workout attire is required to use the facility. Minimum age for working out is 14 years old.