The magic starts the moment we begin to plan your Disney Destination Vacation. We sprinkle pixie dust on your vacation plans & take care of all the details.
Walt Disney World Resort Vacation Planning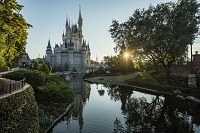 With more places to go, more things to see and more Disney Characters to meet, there's never been a better time to make a dream come true at the Walt Disney World® Resort. Enjoy a week-long vacation experience highlighted by four not-to-be-missed Theme Parks, each with a unique version of Disney magic. Discover a world of entertainment and family fun that knows no boundaries. Choose from 23 imaginative Resorts and explore endless world-class shopping, dining, and recreation.