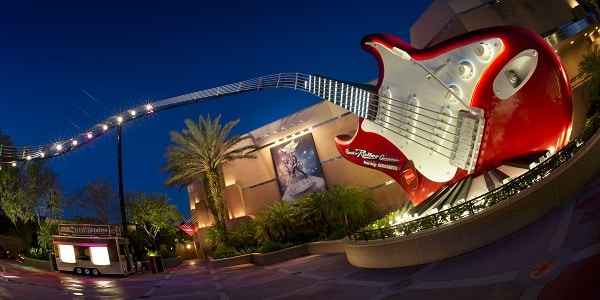 Disney's Hollywood Studios – Where Action Takes Center Stage
Lights…camera…and the stage is ready for plenty of action! The glitz and glamour of Hollywood take center stage at Disney's Hollywood Studios®. But the star is you!
Movie magic comes to life at Disney's Hollywood Studios. Shrink down to the size of a toy as you step into Toy Story Land. Take a ride on Slinky Dog Dash a family coaster that twists and turns through Andy's backyard. Spin with the Aliens on Alien Swirling Saucers or head to Andy's room to blast your way through the 4-D adventure at Toy Story Mania.
Now Open, Star Wars Galaxy's Edge, an all-new adventure from a galaxy far, far, away. Millennium Falcon: Smuggler's Run takes you on a thrilling smuggler's mission. Design your own lightsaber, or droid and experience the best in galactic dining. Join the Resistance in an epic battle against the First Order on the exciting new ride Star Wars: Rise of the Resistance.
Sing along and dance at Disney Junior Dance Party!, This fun-filled party features some of your favorite Disney Junior pals from Mickey and the Roadster Racers, Vampirina, Doc McStuffins, and The Lion Guard.
Catch the twistin', turnin' beat of Rock 'n' Roller Coaster® Starring Aerosmith. Bedazzled by Fantasmic!, an extravaganza of lasers, lights, dancing waters, and special effects. And never experience the same fear twice at the thrilling Twilight Zone Tower of Terror®.
Aerosmith's having a backstage party across town and you are invited. Ready to brave the LA freeways? Zoom from 0-60 mph with the force of a supersonic F-14, take in high-speed loops, and turns synchronized to a specially recorded Aerosmith soundtrack and zip through Tinseltown in the biggest, loudest limo you've ever seen.
Location: Sunset Boulevard
Height Requirement: 48″ (122 cm) or taller
Age Interest: Kids, Adults, Teens, Tweens
Thrill Level: Thrill Rides, Big Drops, Loud
This is an adventure for Mickey and Minnie fans of all ages. The darling duo is taking a leisurely drive to a picnic in their sporty roadster—with Engineer Goofy's train following merrily along. Plot twist—you get to go, too! Climb aboard a runaway railway and embark on a whirlwind ride through a world where the rules of physics don't apply. Prepare for unexpected twists, slapstick gags, and mind-boggling transformations at every turn, as Mickey and Minnie try to save the day. There's no telling where this train is heading!
Location: Hollywood Boulevard
Height Requirement: Any Height
Age Interest: All Ages
Ride in the famous cockpit of the Millennium Falcon on a daring flight—and whether you're a pilot, engineer or gunner, every role is crucial.
The engines rumble as the Millennium Falcon blasts off, pushing you and your crew back into your seats when you jump into hyperspace towards adventure. Along the way you'll face danger at every turn.
Will your mission succeed or fail? It's up to you—find out if you have what it takes to outmaneuver the odds aboard the Millennium Falcon.
Get ready to punch it!
Location: Star Wars: Galaxy's Edge
Height Requirement: 38in (97cm) or taller
Age Interest: Kids, Tweens, Teens, Adults
Thrill Level: Thrill Rides, Small Drops, Dark, Loud
Star Wars: Rise of the Resistance is a massive attraction with multiple ride systems that is unlike anything you've ever experienced at Walt Disney World Resort… or anywhere else in the galaxy!
The Resistance needs your help! Hidden in the forest outside Black Spire Outpost, the Resistance is gathering recruits for a secret mission.
With the First Order desperate to extinguish the spark of the Resistance, the mission is bound to have unexpected twists and turns. When your transport is captured by an imposing First Order Star Destroyer filled with legions of stormtroopers—and even Kylo Ren!—you're going to need all the help you can get. Fortunately, a covert team of Resistance fighters—including Rey and BB-8—is at the ready to give you a fighting chance to escape… and a chance for the Resistance to rise.
Location: Star Wars: Galaxy's Edge
Height Requirement: 40in (102cm) or taller
Age Interest: Kids, Tweens, Teens, Adults
Thrill Level: Thrill Rides, Small Drops, Dark, Loud
On the new Alien Swirling Saucers, the aliens have powered up their flying saucers to take you on a spin through space. Climb into a toy rocket and hang on as aliens lead the way on an interstellar romp set to an out-of-this-world beat. If you're lucky, you just might get "chosen" by the claw.
Location: Toy Story Land
Height Requirement: 32in (81cm) or taller
Age Interest: All Ages
Thrill Level: Spinning
This all-new show experience invites Guests to step into the world of Pixar Animation Studios' "Cars" films as Guests become rookie racers and learn the rules of the road from Piston Cup Champion Lightning McQueen himself! During this 10-minute show, Lightning McQueen appears live on stage to share his racing knowledge – and if there's one thing he's learned over the years is that things don't always go as planned. But with the help of Mater, Cruz Ramirez and, other friends from Radiator Springs, Lightning is bound to get back "on track."
Location: Sunset Boulevard
Age Interest: All Ages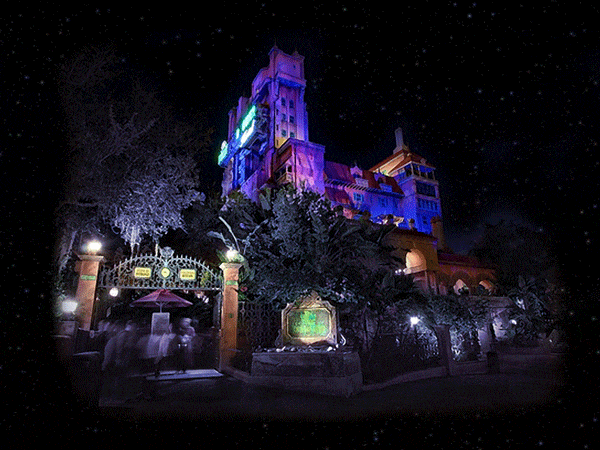 Brave the creepy facade of a once-glorious hotel for a jolt back in time. Board a phantom elevator, shoot up 13 stories and brace yourself for a thrilling plummet… but beware! The experience just got scarier at Disney's Hollywood Studios. You rocket back up, only to plummet down yet again. You dare to ride once more, but wait! That's not what happened before. That's right, now the Tower is in control, so it's never the same fear twice!
Location: Sunset Boulevard
Height Requirement: 40″ (122 cm) or taller
Step right up! This interactive, 4D attraction features the loveable cast of characters from the Disney•Pixar Toy Story films. Climb aboard a ride vehicle and play through a gallery of midway-style games designed for a raucous good time.
Location: Toy Story Land
Height Requirement: None
Age Interest: All Ages
Thrill Level: Spinning
Feel the power of the Force during a 3D, motion-simulated space flight that launches you into the world of Star Wars. Blast off on a thrilling tour of the Star Wars universe aboard a Starspeeder 1000. Voyage to amazing alien worlds — like Tatooine, Naboo or Hoth — and come face to face with the likes of Yoda, Princess Leia or even Darth Vader.
Location: Echo Lake
Height Requirement: None
Join the fun as your favorite fuzzy pals take you on a hilariously wacky 3-D tour of Muppet Labs. Find yourself in the center of a cinematic spectacular of song, dance, surprise appearances, Audio-Animatronics® characters and non-stop shenanigans that literally bring the house down around you. It's must-see 3-D!
Location: Streets of America
Height Requirement: None
Age Interest: All Ages
Immerse yourself in both the life of the man behind the magic, Walt Disney, and the projects of the modern Walt Disney Company at this self-guided museum attraction.
Location: Mickey Avenue
Height Requirement: None
Take off on a family-friendly coaster as Slinky Dog's coils twist around curves, hills and drops. On Slinky Dog Dash, guests, having shrunken down to toy size to enter Toy Story Land, ride cars themed after the Slinky Dog toy along the track of a Mega Coaster Play Kit.
Location: Toy Story Land
Height Requirement: 38" (97cm) or taller
Age Interest: All Ages
Thrill Level: Small Drops, Thrill Rides
Entertainment at Disney's Hollywood Studios
Dance, cheer, and sing along as you are dazzled by toe-tapping musical acts and hilarious live performances in this world of entertainment.
BB-8 Astromech on Duty
Say hello to this excitable sidekick at Star Wars Launch Bay before he takes off on another important mission. Navigate your way through the corridors of a Resistance freighter and visit the security sector. Once there, you may find yourself face-to-droid with none other than BB-8, who is closely observing the base's surveillance cameras. To ensure you have proper Resistance documentation, your photo will be taken for clearance―and will also serve as a fun reminder of this epic encounter.
Location: Animation Courtyard
Beauty and the Beast – Live on Stage
Relive the romance and magic of the "tale as old as time" in this lush stage performance. The heartwarming tale of Belle and the Beast swirls to even greater life with its colorful costumes and gorgeous scenery—and the songs you've come to love. You'll be swept away all over again!
Location: Sunset Boulevard
Disney Junior Dance Party!
Join Doc McStuffins, Vampirina, Timon, and Mickey for a high-energy musical celebration.
Location: Animation Courtyard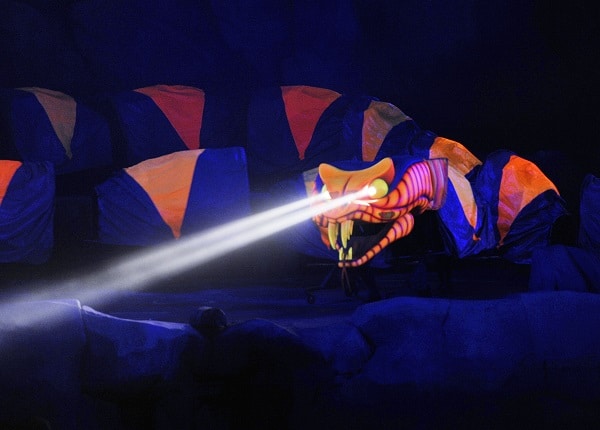 Fantasmic!
The power of dreams blazes before you in this breathtaking 30-minute fireworks and water extravaganza. Witness a show that brings together favorite Disney heroes, princesses, and villains. For a "Fantasmic! Dining Experience," make Advance Dining Reservations for a Fantasmic! Dinner Package. The Amphitheater opens 90 minutes before showtime for seating and food is allowed inside. Due to the popularity of this show, Guests are encouraged to arrive at least 1 hour prior to showtime to obtain seats.
Light up the night and become part of the show with our newest Ear Hats that do more than just glow! Now, with the new Glow with the Show Ear Hats, you become part of the magic at Fantasmic!
Glow with the Show ear hats are imbedded with innovative and interactive technology that allows them to light up and synchronize with entertainment experiences in amazing and dazzling new ways, making members of the audience an integral part of the show. Glow with the Show Ear Hats are available for purchase at select merchandise locations throughout Walt Disney World® Resort.
Location: Sunset Boulevard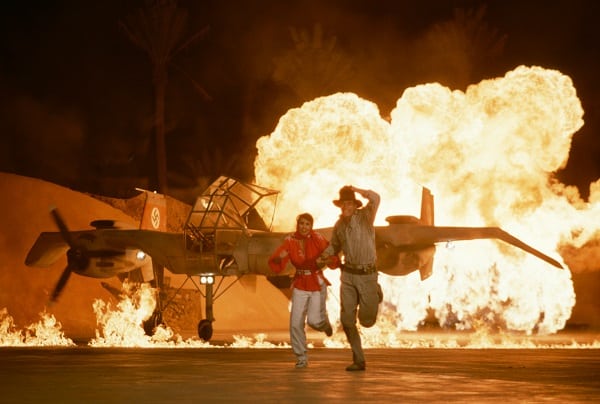 Indiana Jones™ Epic Stunt Spectacular!
Thrill to the pulse-pounding explosions, crashes, clashes, and death-defying stunts of Indiana Jones' onscreen adventures. Sit behind the director's chair to participate in this stage spectacular that reveals some of the moviemaking magic responsible for Indy's triumphs over deadly traps, bad-guy battles, and epic-scale obstacles. You may even be chosen to be an extra!
Location: Epic Stunt Theater
For the First Time in Forever: A Frozen Sing-Along Celebration
Laugh and sing with an enchanting retelling of the kingdom's tale that's as humorous as it is heart-warming.
Relive the magic and wonder of Disney's animated hit Frozen when 2 royal historians recount the windswept story of Anna, Elsa, and the icy kingdom of Arendelle. Watch classic moments from the beloved movie play out on a large screen and sing along to some of the movie's most popular songs, including "Let It Go." On-screen lyrics—and appearances by Anna, Elsa, and Kristoff—make it easy to join in the fun, and special surprises along the way only add to the enjoyment of this approximately 30-minute show.
Location: Echo Lake
Star Wars: A Galactic Spectacular Fireworks Show
The Star Wars: A Galactic Spectacular show is a combination projection and fireworks show at the Chinese Theater in Disney's Hollywood Studios. The show includes Star Wars characters from the first 6 movies of the epic saga, including Yoda, Luke, Leia, and Darth Vader, along with characters from the Force Awakens, including Rey, Poe, Finn, and Kylo Ren. Fireworks are synced to John Williams' memorable Star Wars soundtracks. Star Wars: A Galactic Spectacular also features lasers and dramatic fire effects. The lasers help to make the crowd feel as if they are in the action of a Star Wars battle, and the fire effects are large enough to warm the faces of the crowd. These are impressive effects, but small children may be scared by parts of the show.
Location: Hollywood Boulevard
Jedi Training: Trials of the Temple
Watch younglings train in the ways of the Force and put their skills to the test to defeat the Dark Side—including a new villain! Under the tutelage of a Jedi, the recruits learn how to use the Force—and their wit—to wield lightsabers. Now that the Empire has driven the Jedi to the distant corners of the galaxy, the training must proceed in secret at ancient Jedi temples.
But not even this precaution can shield the Jedi from the evil forces of the Dark Side for long. Soon, the novice Knights are challenged to use their new skills when they come face-to-face with Darth Vader—and now a new villain, the Seventh Sister Inquisitor from the popular Disney XD series Star Wars Rebels.
Younglings between 4 and 12 years of age who wish to participate must register before the show.
Location: Echo Lake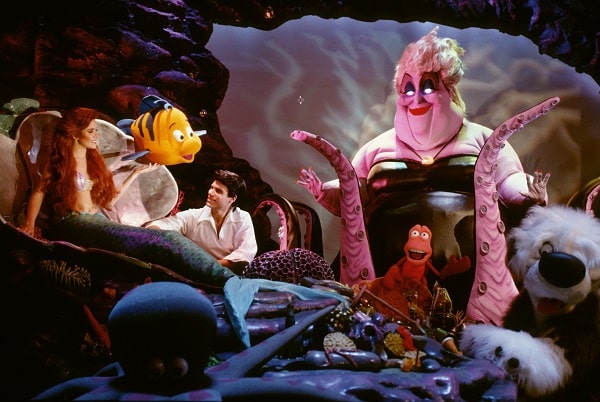 Voyage of The Little Mermaid
Journey into the magical world of dancing fish, calypso-ing crabs, and curious merfolk in this thrilling theatrical experience. Join Ariel for an exciting voyage from the ocean floor up to where humans live. It's an undersea party of live performers, colorful puppets, special effects, film clips, and enchanting music with Flounder, King Triton, Sebastian, and others.
Location: Animation Courtyard
Wonderful World of Animation
This excitement-packed projection show will take you on an incredible journey through more than 90 years of Disney and Pixar animation.
Watch in wonder as the façade of the Chinese Theatre is magically transformed—displaying this stirring tribute to animation. Behold spectacular sequences celebrating themes like magic, family, adventure, romance, and friendship. Each theme is brought to life through unforgettable moments from beloved films—like Sleeping Beauty, The Incredibles, Coco, and many more.
Of course, since we can never lose sight of the fact that it was all started with a mouse, the show fittingly begins and ends with the one-and-only Mickey.
Meet the Incredibles at Pixar Place
Embrace your inner Super Hero and join in all the fun! You'll be treated like a Super as you:
Visit Edna Mode's Super-Suit Gallery to see some of the famous designer's greatest creations.
Search for clues leading to a multi powered Super nearby. By following the footprints, laser scars, and cookie crumbs, you might just find Jack-Jack, the youngest member of the Parr family.
Location: Pixar Place
Celebrity Spotlight
Meet Olaf the snowman from Disney's Frozen—who's finally doing what frozen things do in summer. Giggly, goofy, and totally cool… love means putting someone else's needs before yours, so catch Olaf before he melts!
Location: Echo Lake
Green Army Drum Corps
Throughout the day, be on the lookout for the Green Army Drum Corps in Toy Story Land! This talented band of drummers is sure to entertain guests of all ages with their high-energy performances and awe-inspiring drum sequences.
Location: Toy Story Land
Green Army Patrol
Ten-hut! Join Sarge and the Green Army Patrol for their daily interactive boot camp, a fun, playful, impromptu training session that enlists families, friends and recruits of all ages to get on their feet, shape up, and face challenges like a real cadet. Think you've got what it takes? March on over to Toy Story Land, drop into formation and walk away an official defender of Andy's backyard!
Location: Toy Story Land
Star Wars Launch Bay: Meet Chewbacca
Journey to an ancient temple that has been transformed into a hidden Rebel base. Here, you'll have a chance to salute the fuzzy gentle giant—Han Solo's loyal comrade and Millennium Falcon copilot.
Chewie may be known for his towering stature and great strength, but you may discover that a quick wit and a big heart are his most memorable qualities.
Location: Animation Courtyard
Meet Disney Junior Pals in the Animation Courtyard
Say cheese—and hi—to some favorite Disney Junior stars in a fun-filled picture and autograph session!
Location: Animation Courtyard
Meet Mike and Sulley at Walt Disney Presents
Get ready for a warm and wild welcome as you step inside the world of Monsters, Inc. to meet, greet and pal around with Mike and Sulley.
Location: Animation Courtyard
Meet the Toys in Toy Story Land
Round up the gang and get those batteries charged! Shake the snakes out of your boots and say howdy to Sheriff Woody. Yodel a hello to Jessie the Cowgirl. Remember to greet Buzz Lightyear with your best Space Ranger salute—he's always looking for a few good toys. These pals had some amazing adventures together, and now they're looking forward to making new memories with you.
Location: Toy Story Land
Attraction Height Requirements
Alien Swirling Saucers – 32″ (81 centimeters) or taller
Millennium Falcon: Smugglers Run – 38″ (97 cm) or taller
Rock n' Roller Coaster – 48″ (122 centimeters) or taller
Slinky Dog Dash – 38″ (97 centimeters) or taller
Star Tours – The Adventures Continue – 40″ (102 cm) or taller
Star Wars: Rise of the Resistance – 40″ (102 cm) or taller
The Twilight Zone Tower of Terror – 40″ (102 cm) or taller
Dining Options at Disney's Hollywood Studios
Commissary Lane
Echo Lake
Hollywood Blvd.
Grand Avenue
Star Wars Galaxy's Edge
Sunset Blvd.
Pixar Place
Toy Story Land
Start planning your Walt Disney World Resort vacation!
Request a FREE, No-Obligation Quote from one of our travel agents. Our services are provided FREE of charge. You won't pay more when you book with us. Start planning your Walt Disney World Resort vacation today!
If you would like to request a quote for another destination, click here.