Things Go Bump in the Night at These Haunted US Hotels
October 13, 2023
0 Comments
---
---
From cryptids and hauntings to legends and lore, the USA can be a seriously spooky place. So why should its hotels be any different? Whether they find the thought of the paranormal to be downright scary or if they're more skeptical by nature, guests who spend the night at these six haunted U.S. hotels might find themselves leaving a believer.
Mizpah Hotel, Tonopah, NV
Situated along Neveda's Extraterrestrial Highway, little green men aren't the only strange thing visitors might encounter when they choose to spend the night at the haunted Mizpah Hotel. Charming with its plush velvet furnishings, ornate golden chandeliers and moody downstairs lobby and bar, the Mizpah Hotel, aka "The Jewel of the Desert," is a historic spot dating back to 1907. However, with all those years under its belt, it's no surprise the Mizpah has found itself with a few guests who have never checked out.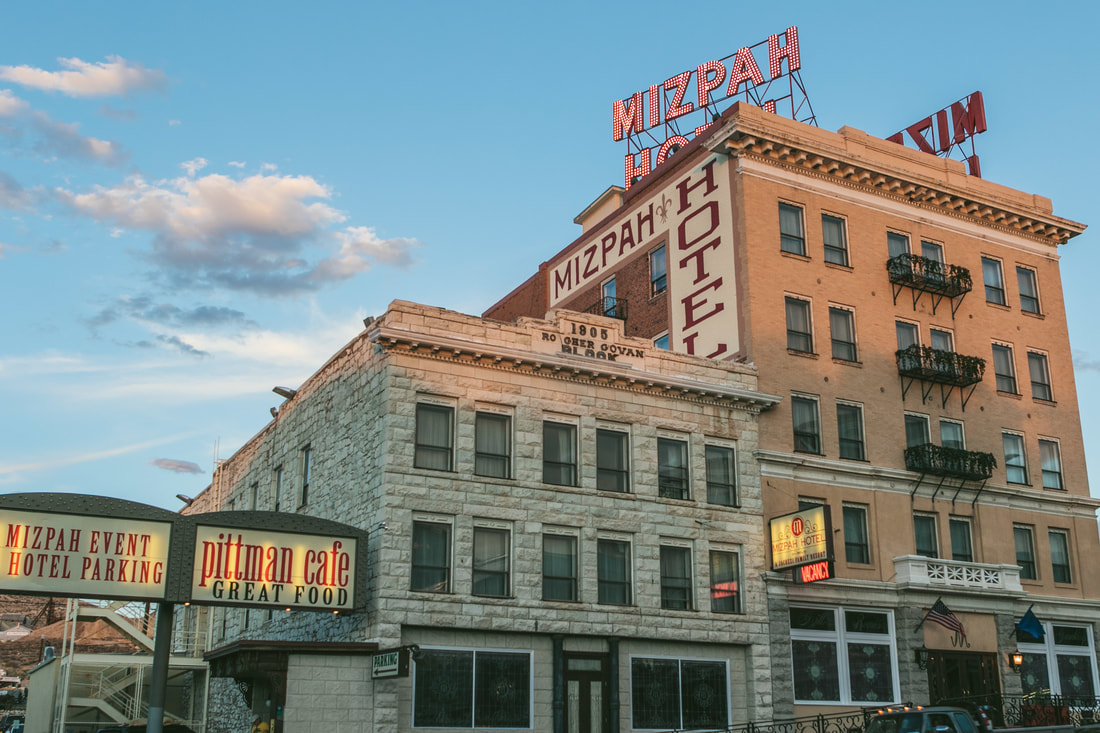 Enter the Lady in Red, Nevada's most famous ghost, and the Mizpah Hotel's most notorious resident. A former working girl, the Lady in Red practiced the world's oldest profession out of a suite on the hotel's fifth floor. While her identity was lost to history, the boudoir she worked in was transformed into three rooms — 502, 503 and 504 — with room 502 being the most active regarding paranormal activity. However, guests can also encounter the Lady in Red when they ride the Mizpah's old-timey elevator, a place where several people have reported hearing a female voice whisper sweet nothings into their ears.
Bonus Haunt: While they're in the area, travelers can bop over to the world-famous, and super haunted, Clown Motel which is just a minute down the road.
Pfister Hotel, Milwaukee, WI
Home to many haunted bars, bizarre lore, spooky cemeteries and even its own cryptid — hello, Beast of Bray Road —, Wisconsin is no stranger to the strange. But to explore one of the state's creepiest lodging options, travelers will want to set their sights on Milwaukee, a fantastic city on the beautiful shores of Lake Michigan. Known for its beer, festivals and sports teams like the Milwaukee Brewers and Bucks, it's those same professional athletes who often come face to face with the unknown when they stay at the luxurious, yet eerie Pfister Hotel.
Yes, you read that right, the paranormal activity at this Milwaukee locale has caused such a stir that The Pfister made headlines on the Major League Baseball (MLB) organization's website in 2021 in an article titled "Scary stories from baseball's haunted hotel." And it's not just baseball players who are getting the heebie-jeebies, in 2021, entertainer Megan Thee Stallion had a run-in with some ghouls reporting poltergeist activity in her room not once, but twice. In addition to objects moving, disappearing and reappearing on their own, guests at this lovely establishment commonly experience disembodied voices, strange sounds and even full-body apparitions.
Bonus Haunt: For a spooky night on the town, visitors won't want to miss a stop at Shaker's Cigar Bar, a haunted bar with guided ghost tours and delicious absinthe.
The Marshall House, Savannah, GA
We've said it before, and we'll say it again, Savannah is crawling with ghosts. And with the region's dark history of bloody battles, gruesome murders, tragic fires and connection to slavery, it isn't hard to see why so many spirits have struggled to find rest. From historic homes and old saloons to breweries and more, according to Ghost City Tours, a tour company based out of Savannah, it's almost impossible to find a historic building that doesn't have a few phantom friends. And of those buildings, one of the most haunted is The Marshall House, a stunning hotel dating back to 1851.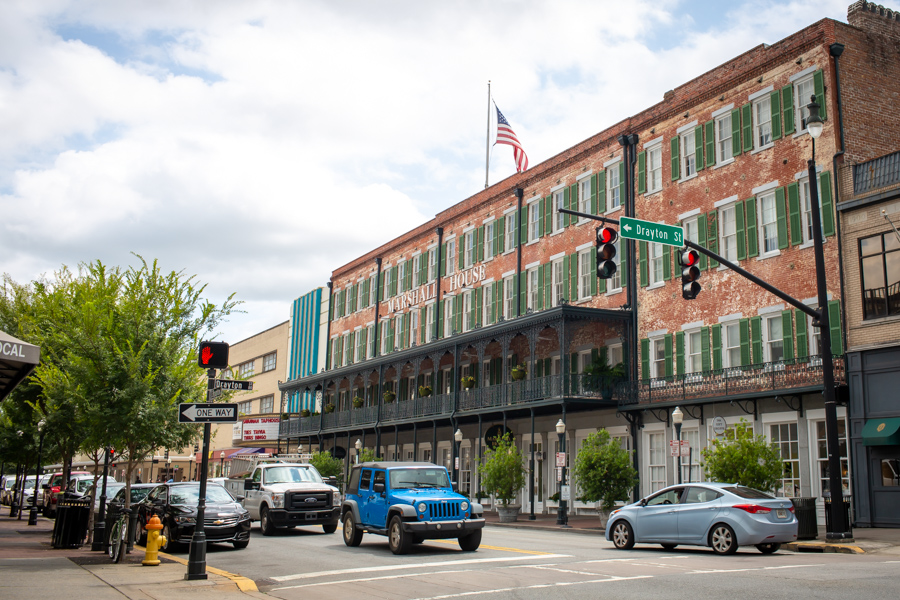 While The Marshall House of today oozes Southern charm with its cozy color palettes, rustic hardwood floors, colorful furnishings and ornate tilework, that wasn't always the case. In fact, from the early 1850s through the 19th century, this historic property acted as a hospital, first for Union soldiers during the Civil War and later during two separate bouts of Yellow Fever. The Marshall House is familiar with pain and suffering, and it seems that energy has transformed into something much more mysterious. Travelers who dare to spend the night at this place — which was ranked the best haunted hotel in the U.S. — might encounter apparitions in the hallways, experience strange activities like faucets turning on and doors closing on their own or hear unaccounted-for footsteps.
Bonus Haunt: Just a hop, skip and a jump from the historic Marshall House is Moon River Brewing Company, one of the nation's spookiest places to grab a drink.
1886 Crescent Hotel & Spa, Eureka Springs, AR
Since 1997, the owners of the 1886 Crescent Hotel & Spa in Eureka Springs, Arkansas have leaned into the building's haunted nature. With a former life as an experimental cancer hospital, this historic building has a painful story to tell, and the hotel staff is doing their best to tell it. In addition to being featured on countless paranormal reality TV shows like "Ghost Adventures" and "Ghost Hunters," the Crescent Hotel's owners have worked to unearth the property's otherworldly qualities with the help of mediums and guests who recall their strange experiences.
With such an iconic reputation among purveyors of the unexplained, the Crescent Hotel & Spa attracts over 35,000 thrill-seekers each year, many of whom attend the hotel's nightly guided ghost tours in hopes of having a paranormal experience of their own. On the tour, guests learn about the property's most famous spirits like Michael the Irish stonemason, Theodora the nurse and an unnamed specter who hangs out in the onsite morgue. As for what ghost hunters often experience, visitors might want to keep their blood sugar up as several tour-goers have suddenly gone pale, and a few have even lost consciousness.
Congress Plaza Hotel, Chicago, IL
Known for its striking architecture, world-class museums, delicious deep-dish pizza and beautiful river walk, Chicago is an iconic destination with equally iconic haunts. As far as haunted hotels go, Michigan Avenue's Congress Plaza Hotel takes the cake with reports of phantom children, TV channels that change on their own, ghouls that don Victorian clothing, peculiar shadow figures, strange footsteps, disembodied voices and more.
Perhaps it's the Congress Plaza Hotel's connection to Al Capone — the mobster reportedly played cards at the establishment every Friday — or the series of gruesome deaths that took place at the establishment throughout the years, but something seriously spooky is happening behind these walls. To up their chances of seeing something odd, guests can book room 441 in the South Tower, the hotel's most haunted room where a female apparition has reportedly hovered above, stood next to, pushed and tugged the covers off of unsuspecting guests.
Bonus Haunt: In the nearby Theater District, visitors can set foot on the same site of the 1903 Iroquois Theatre fire, a tragic event that took the lives of around 600 people. The alley, which still exists as an alley today, acted as a temporary morgue on that fateful day.
The Hollywood Roosevelt, Los Angeles, CA
Situated along Hollywood Boulevard, The Hollywood Roosevelt has witnessed countless premieres and the glitz and glamour accompanying them. From movie stars and TV personalities to rockers and politicians, everybody who's anybody has visited this iconic stretch of road. And, when it comes to lodging at these iconic events, many turn to The Hollywood Roosevelt. However, as they mix and mingle among the property's perfectly broken-in leather sofas, dramatic iron chandeliers and colorful fountains, visitors might find that this iconic hotel plays host to a few famous friends who never checked out.
The most famous of the hotel's otherworldly guests is La La Land's very own Marilyn Monroe. Rumored to manifest in room 1200, it is said this suite was Monroe's favorite when she was among the living, and she still seems to favor it today. Before it was moved to a nearby hallway, guests reported seeing the actress in the room's full-length mirror. However, that isn't the only place she appears, Monroe has also been spotted in the Blossom Ballroom, busting her best moves from beyond the grave. Another commonly reported spirit is that of Montgomery Clift, a three-time Academy Award nominee who was a friend of Elizabeth Taylor. Montgomery is said to haunt room 928 where he has reportedly touched, watched and even evoked episodes of sleep paralysis in unfortunate guests.
Bonus Haunt(s): The Roosevelt Hotel isn't Hollywood Boulevard's only haunt, the TLC Chinese Theatre and Pantages Theatre are home to high strangeness too.
Travel insights from Jenna Buege, senior editor of The Compass