7 Burning Questions Answered About Star Wars: Galactic Starcruiser
February 26, 2022
0 Comments
---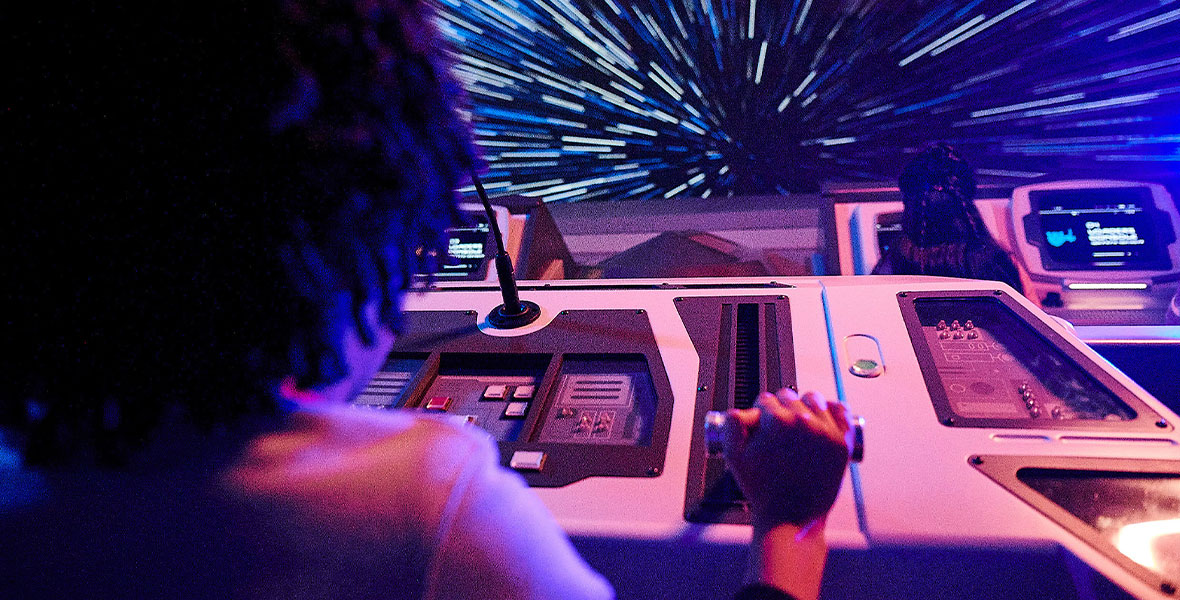 Star Wars: Galactic Starcruiser voyages begin March 1, 2022, and given that it's a first-of-its-kind experience, we understand if you have a lot of questions. This week, we cruised aboard the famed ship—and now we're here to answer your burning questions.
1. Is Star Wars: Galactic Starcruiser a hotel?
Star Wars: Galactic Starcruiser is not a hotel—it's an entirely new vacation experience! It's a two-night, immersive adventure where your choices impact an epic Star Wars story. There's plenty to explore onboard the starcruiser with themed activities, accommodations, and more. Plus, you'll visit Black Spire Outpost on Batuu during a daytime excursion to Star Wars: Galaxy's Edge at Disney's Hollywood Studios.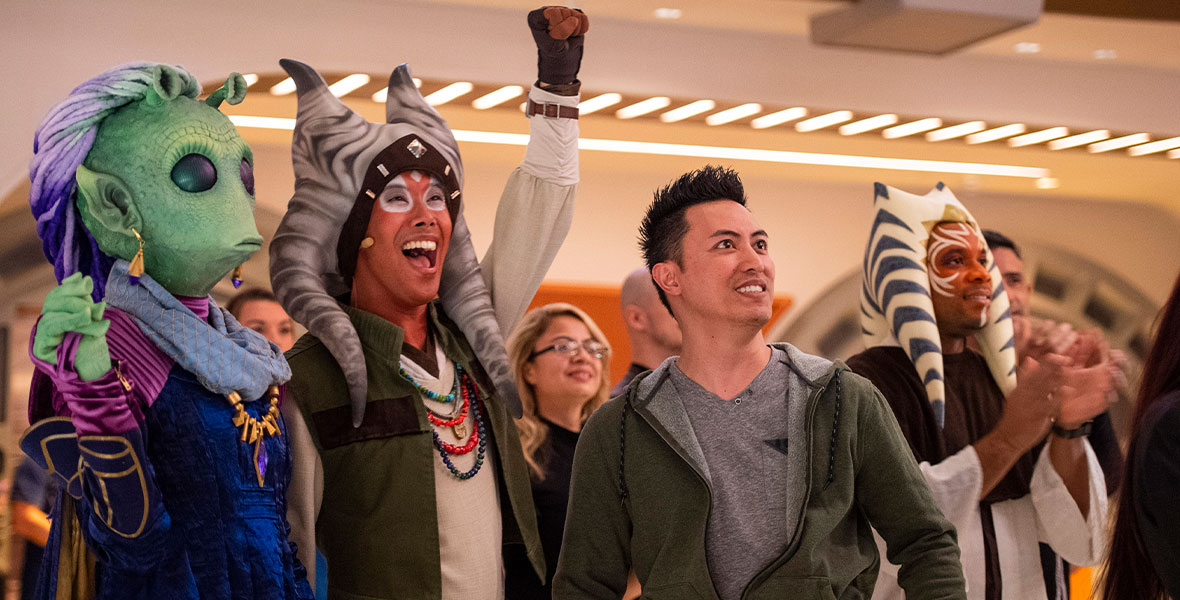 2. How does the role-playing aspect of the experience work?
During your voyage, you won't just meet new and familiar Star Wars characters—you'll interact with them in ways you've only previously imagined. They need your help, and whether it's through in-person conversations or private messages using your Star Wars: Datapad (via the Play Disney Parks mobile app), you can join them on daring missions. Remember: Characters you meet one day might lead to bold new adventures the next!
"Immersive theater is still relatively new to the industry, and I think Disney understands that not all guests have had the opportunity to experience it," Alex Lee, Production Manager, Disney Live Entertainment, says. "We've created characters to help guide and inform how to play. This is very specific to [new character] Sandro Alimander, who's there as a guest; he's there as a window, so you can see how he interacts with the performers, how he's interacting with you, and what the rules of engagement are that play through Sandro. Hopefully by seeing a unique character trying to participate and be part of this story, that inspires you as a guest to continue to play."
3. Can I dress up in costume during my voyage?
Definitely! What you wear is part of the fun. Since you are a character in the story, it's important to dress the part. If you wish to participate, you can even show off your look during the Outer Rim Regalia event! Clothes from your home planet are also welcome. Exclusive apparel is available in advance from shopDisney. Galactic attire is also available for purchase at The Chandrila Collection, the Halcyon starcruiser's boutique.
Many of the items you'll find on shopDisney or in The Chandrila Collection were reproduced from Star Wars films. "My team and I spent so much time in the [Lucasfilm] archives," Brad Schoeneberg, VP of Brand Merchandising, says. "We held and measured the original costumes, so we knew what they felt like, we knew the materials, we knew the fabrications. We produced the most realistic items imaginable. What those actors felt wearing those costumes should give you a little hint of what you're going to feel here."
Before you pack, please read over the Walt Disney World Resort Property Rules.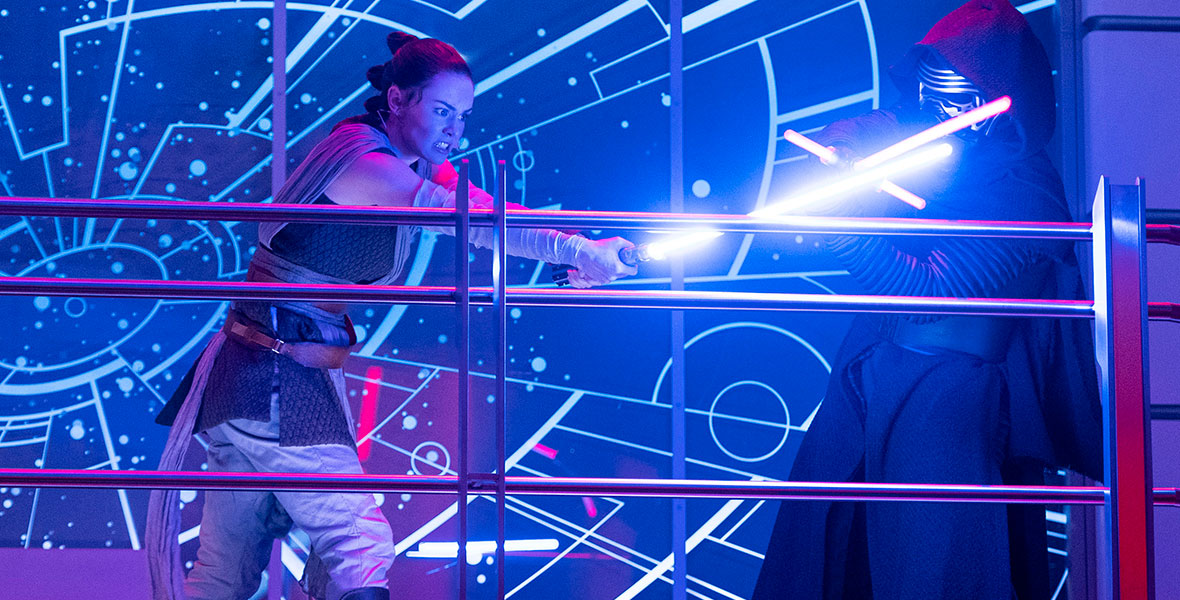 4. Will I encounter Star Wars characters during my adventures?
Yes. During your Star Wars: Galactic Starcruiser voyage, you'll interact with them in ways you've only dreamed of. You might help hide a Wookiee stowaway, or you might feed intel to the First Order to gain their trust. The choice is yours, but keep in mind that your interactions—and their perceptions—will affect how your adventure unfolds. You'll also meet new characters about the Halcyon starcruiser, including crew members Captain Riyola Keevan, Cruise Director Lenka Mok, and Sammie the mechanic; droids SK-62O and D3-O9; and musicians Gaya, Ouannii, and Sandro Alimander. Watch out for the First Order Stormtroopers, who are under the command of Lt. Croy. During your voyage, you might even see some familiar faces from the Star Wars films, such as Rey and Kylo Ren.
"We brought in some industry experts in immersive theater to help us understand that craft and really make it a comfortable environment for everyone," Marc Rothschild, Producer, Disney Live Entertainment, says. "Our actors are trained to guide the way and to help guide the story. It's nice, because it's a really intimate environment, so we are creating these really intimate conversations. I would say seek those out. If you're not comfortable in the big stories and becoming part of it, then possibly just try an element in a smaller environment, maybe in your lightsaber training. It's a good opportunity to see if you could be a different character and bring some story to that."
5. How do I use the Star Wars: Datapad?
Star Wars: Datapad is one of the many fun, interactive experiences offered within the Play Disney Parks app*. It enhances your adventure when you visit Star Wars: Galaxy's Edge, but more than that, it is an essential tool while aboard the Halcyon starcruiser. The Star Wars: Datapad offers a personalized itinerary of activities and events, and it presents communications from the crew and others you may encounter along the way.
For those who are less experienced role-players, the Star Wars: Datapad is a great way to begin interacting with characters. "I'm an introvert, so going up and talking to a person I've never met before is a little intimidating," Anisha Deshmane, Creative Producer, Walt Disney Imagineering, says. "But having a person reach out to me and say, 'We haven't met yet, but I have this information I need to tell somebody about,' gives me an invitation to play in a way I might not have accepted in-person. We've layered all of these different invitations for guests. Some people are going to have a great time hanging out in the Sublight Lounge, and a character is going to wander in and strike up a conversation with them. That's an invitation to get involved in the story. Some of our passengers are going to sit back and take a look at their Datapad and wait for messages to arrive. It's another way to get invited into the story."
If you are planning a Star Wars: Galactic Starcruiser voyage, please download or update the Play Disney Parks App on your mobile device prior to your departure date.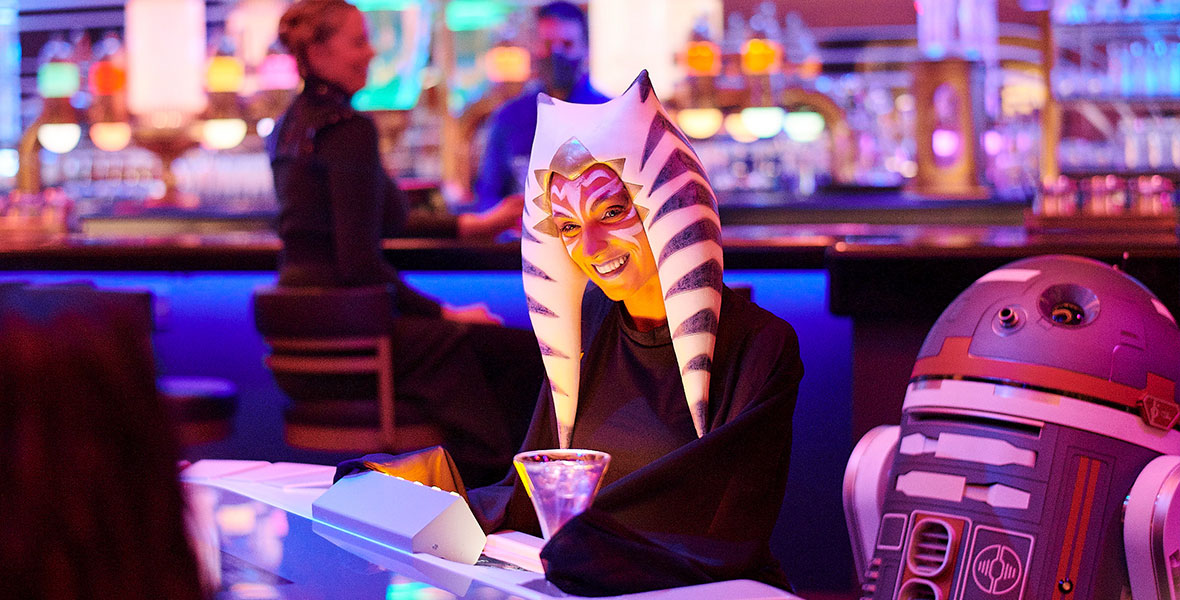 6. What is the food and beverage experience like aboard the Halcyon starcruiser?
Breakfast and lunch are served in the glamorous Crown of Corellia Dining Room. Enjoy delicacies from across the galaxy, along with familiar favorites from your home planet.
Your days will begin with an off-planet breakfast of hot and cold small plates, along with a variety of beverages—including Bubo Wamba Family Farms blue milk! During lunch, you'll have a choice of small bites, from salads and sandwiches to soups and sweets.
On the first night, the Crown of Corellia Dining Room transforms into a table-service supper club with a special musical appearance by the galactic superstar Gaya. Enjoy a special evening with distinctive dining and entertainment. On the second night, the "Taste Around the Galaxy" showcases courses inspired by the geography and surroundings of destination planets across the galaxy. Indicate your preference for first or second dinner seating (based on availability) when you book your vacation package.
Complimentary snacks are available in the Atrium on both days, and cocktails and other beverages, in addition to a few small bites, will be served in the Sublight Lounge.
7. How can I book a Star Wars: Galactic Starcruiser vacation?
You can reserve a Star Wars: Galactic Starcruiser voyage today by calling (407) 939-1800 between 7 a.m. and 11 p.m. p.m. ET. or reach out to your travel agent. Guests under 18 years of age must have parents or guardians' permission to call. The cost of your Star Wars: Galactic Starcruiser voyage varies based on your party size, voyage dates, and desired cabin or suite type.